And tips on pitching.
This week features a bunch of opportunities to fuel your next adventure (which make great stories, of course). There's a fantastic feature on Bernd Heinrich, a leading naturalist, data about the economic might of climbers, and a charming little cartoon. Enjoy!


---

Opportunities
World Nomad's 2019 Travel Writing Scholarship
aka a 14-day travel writing trip for "3 aspiring travel writers to go on assignment in Portugal and be mentored by professional travel writer and contributor to The New York Times, Tim Neville." This looks like an incredible opportunity.
Also, be sure to read "The Art of Travel Writing", a free travel writing how to by Tim, which I've found to be immensely useful.
Photo source: American Alpine Club

AAC's Live Your Dream Grant
You don't have to be a professional climber or pursuing a FA to win this climbing grant. All you need is a clear goal and the aim to level up your skills. Grants are awarded from $200-$1,000.
The purpose of this grant is to support and promote unforgettable experiences for climbers—to dream big, to grow, and to inspire others.

The Epic Road
Stay Wild magazine is offering to fund your next road trip. They are offering funds and goods to make your auto-powered jaunt a reality.

…


What I'm Reading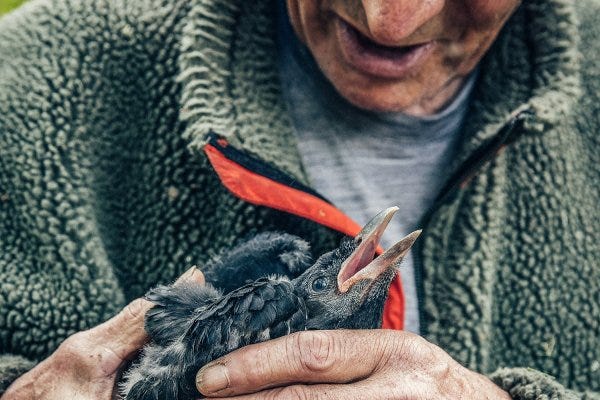 A return to nature, your nature
Bernd Heinrich is a leading naturalist and one of history's fastest ultramarathoners. Now 77, he's settled in the backwoods of Maine with a wood stove and in his natural habitat.
The author writes, "We live in an age that affords little time and space for communing with nature. We're busy. Our days are fragmented. But Bernd has dug in his heels against this collective drift. He has recognized where he wants to be in old age and settled in, with purpose. " (emphasis added by newsletter curator)
"A naturalist," he e-mailed me, "is one who still has the habit of trying to see the connections of how the world works. She does not go by say-so, by faith, or by theory. So we don't get lost in harebrained dreams or computer programs taken for reality. We all want to be associated with something greater and more beautiful than ourselves, and nature is the ultimate.

Real artists have day jobs.
Because it's hard to pay your way solely from your art. That's the game we play. But it doesn't mean you aren't an artist, or that you can't make art because you damn well want to. And who knows, maybe some day you will be able to live solely off your art.
"Real artists have day jobs, and night jobs, and afternoon jobs. Real artists make things other than art, and then they make time to make art because art is screaming to get out from inside them. Screaming, or begging, or gently whispering."

Climbers are a major economic force
We know the outdoor industry is a contributing economic force to be reckoned. In 2016, the outdoor recreation economy contributed 2 percent ($373.7 billion!) of the entire U.S. Gross Domestic Product.
Climbers are making their impact in hyper-local areas around popular crags that normally wouldn't get much traffic, like Chattanooga or the Red.
The economic-impact study found that visiting climbers (not including residents, whose spending is considered part of the regular economy) spent $6.96 million in Hamilton County during the 2015/16 fall and winter season…

These numbers put dollars made from climbers on par with revenue from major special events held in Chattanooga, another boon for area tourism. Held in late summer every year, Ironman Chattanooga brings in $10 million, with the race occurring in one weekend and many of the participants staying up to 10 days.

…


On Pitching Stories

…


For the Feel Goods

…


Enjoy the round-up?

…


---
Out There / In Here, vol. 2

Feature photo source: Outside Magazine